Biography of Shafik Mahama, the eldest son of Ghanaian politician, John Dramani Mahama and his wife, Lordina Mahama.
The former president John Dramani Mahama who is the current Flagbearer for the National Democratic Congress (NDC) is blessed with five children.
Read Also: Mandy Ofori: 10 Biography Facts Of Dr. Ernest Ofori Sarpong's Daughter Who Just Graduated As A Lawyer – Net Worth, Schools, Awards, Photos Etc.
Three boys, Sharik, Sharid, Sharaf, and two girls Farida and Jesse.
Ten (10) facts about Shafik Mahama has been revealed, check them out:
1. Parents
Shafik Mahama is the offspring of John Dramani Mahama and his wife, Lordina Mahama. Shafik happens to be the first child of the couple.
Read Also: Kwesi Arthur: Here Are 15 Biography Facts Of Ghanaian Rapper Kwesi Arthur – School, Net Worth, Awards
John Dramani Mahama is a Ghanaian politician who served as President of Ghana from 24 July 2012 to 7 January 2017.
Lordina Mahama is a Ghanaian former First Lady of Ghana. She is married to the fourth President of the Fourth Republic and old President of Ghana, John Dramani Mahama.
Read Also: Shafik Mahama: Mahama's 1st Son Turns A Year Older, His Younger Bro, Sharaf Mahama Celebrates Him, Photo Drops
Prior to becoming First Lady, Lordina Mahama's husband served as a member of the Parliament of Ghana representing the Bole/Bamboi constituency during the 2000s.
On the 21st of the 12th month of each year, Shafik Mahama celebrates his birthday. At the moment, his exact age remains unknown.
3. Siblings: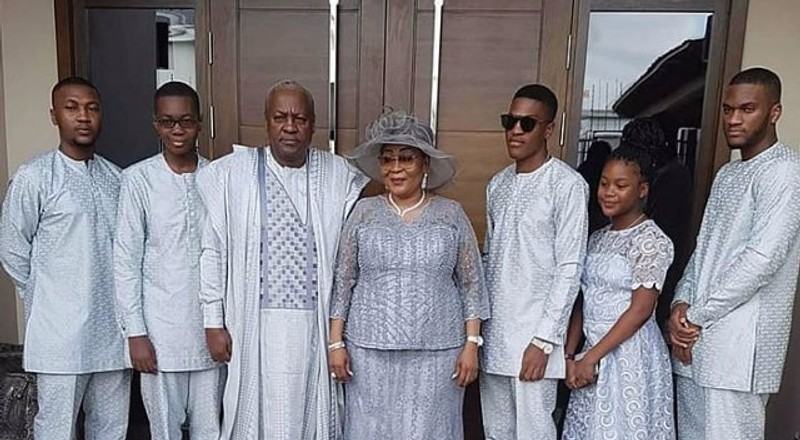 John Dramani Mahama is blessed with five children.
Three boys, Shafik, Sharid, Sharaf, and two girls Farida and Jesse.
Read Also: Titi: Sarkodie's Daughter Stuns Everyone As She Raps In New Video With Her Father
Sharik Mahama is John Dramani Mahama's first born and first son.
4. University And Degree(s)
Following his father's footsteps, Shafik Mahama, a son of former President John Dramani Mahama has graduated with a degree in Media and Mass Communication on January 18th 2018
5. Wife
The privately held ceremony of John Dramani Mahama's first son, Shafik Mahama came off in Dubai in the United Arab Emirates on Thursday, July 16, 2020.
Read Also: 15 Biography Facts Of Clemento Suarez You Probably Never Knew About Him
The lady Shafik married is known as Asma, an Algerian who is based in Dubai. Just like Mahama's, Asma is also reported to come from a wealthy family in the northern African country.
6. Other Information
Shafik Mahama is a very discipline and respectful man.
He is known as a polite and quiet type of person who carry himself with a lot of respect for his younger siblings to look up to.
Read Also: Francis-Xavier Sosu: Photos Of Madina MP Elect, His Beautiful Wife And Their Children Pop Up
Sharik Mahama does not get himself involved into Politics but rather he is into media as he recently bagged a first degree in media studies in a University in Dubai.
He got married on Saturday as he has been the first child of John Dramani Mahama to ever marry.
Read Also: Richard Peprah: School, Houses, Cars, Businesses, Family etc – Everything To Know About Cindy Ofori Sarpong's Husband
He got engaged with an Algerian wife. Sharik Mahama is indeed an ambitious man.
7. Net Worth
The net worth of the son of a man who is considered one of Ghana's richest politicians and business men should always be mind-blowing.
Although none of Shafik Mahama's assets have been spotted online yet, he is believed to be one of the young millionaire hardworking men in Ghana.