It seems that former President Jerry John Rawlings could not conquer the sorrows of his mother, Mrs. Victoria Agbotui's passing, as he paid her a tribute at her funeral service which was held at Keta.
Madam Victoria Agbotui was laid to rest on Saturday, 24 October at the final burial service which was held at the Ketascho Park, Dzelukope, Keta, click here to all the pictures and videos.
Read Also: Children Of Jerry John Rawlings Cause A Massive Stir At Their Grandmother's Funeral | Video
The ceremony was graced by current president, Nana Akuffo Addo, his vice, Dr. Bawumia, John Dramani Mahama among many other politicians and family of Jerry John Rawlings.
At the event, the children of former president, John Jerry Rawlings caused a massive stir as they really bear a resemblance to their father, click here to see pictures and videos.
Read Also: Jerry John Rawlings' Daughter, Amina Rawlings Reportedly Gives Birth To A Baby Girl
At the burial service, during Mr. Rawlings' tribute to his late mother, he recounted how strict and an uncompromising disciplinarian his late mother Victoria Agbotui was during her 101 years on earth.
In a glowing tribute, he said, "My mother was tough and determined and never stopped threatening the use of the rod. She was fearless and had the most amazing work ethic.
"She believed that the devil found use of the idle hand, so kept herself and those around her busy at all times."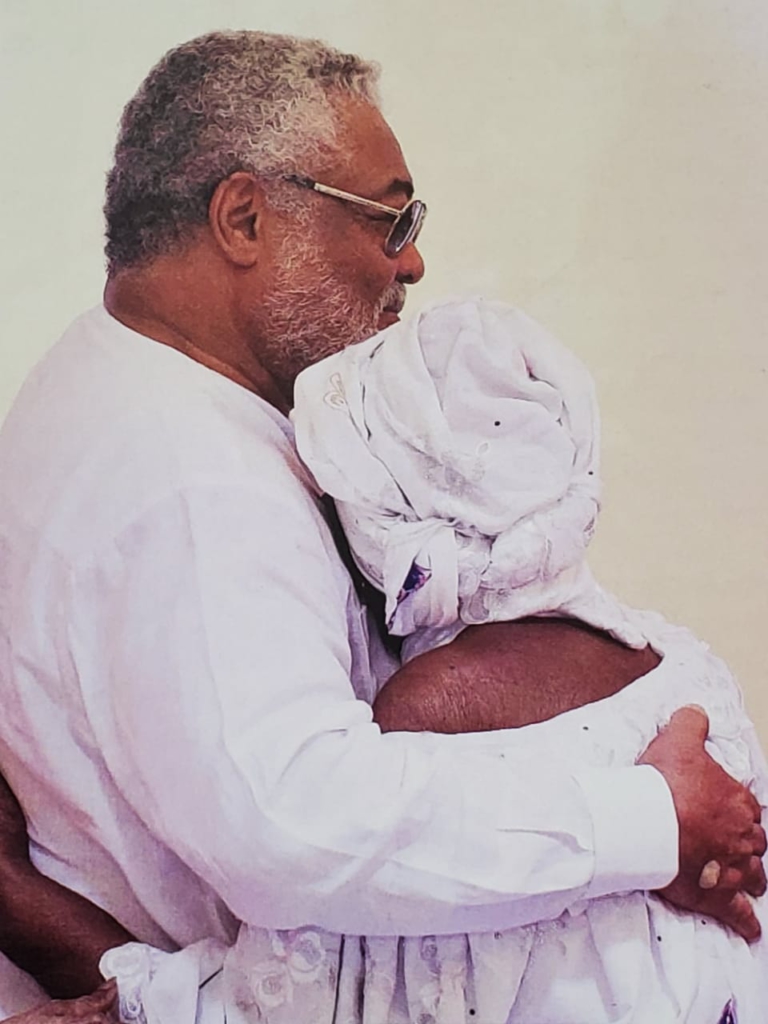 Mr. Rawlings also detailed in his tribute how her mother at her 101 years used to yell at him and attached that to the reasons he was heard with a quiet voice.
Former President, Jerry John Rawlings' tribute reads:
"My mother never spoke; she only shouted. I can still hear her voice as I reminisce. That's probably why I can't seem to speak in a quiet voice, either. Of all the things to inherit!
"Even on her 100th birthday, she was still giving orders about who was to stand where and what she wanted to eat and drink. She never lost her fire!,"

Mr Rawlings said.
The former President said there were times he was afraid Auntie Vic would outlive some of her children and her peers.
"She was as tough as nails, but the good Lord giveth and taketh and I know she is already in Heaven busily shouting out instructions. I have no doubt God will make her police chief in Heaven to dish out her brand of discipline and trust her top perform the role with distinction,"

he said in jest.
Thedistin.com had earlier pressed on the former President when he reminisced about his mother, Victoria Agbotui's encounter with the late Otumfuo Osei Tutu Agyeman-Prempeh at the State House where she used to work as a baker.
Jerry John Rawlings as part of his tribute to his late mother, Madam Victoria Agbotui, at her burial service which was held at Keta, recalled his past encounter between his mother and late Otumfuo Osei Tutu Agyeman-Prempeh that shocked him.
While speaking out with full sorrow, he narrated an interesting story between his late mother and late Otumfuo Osei Tutu Agyeman-Prempeh at the State House when she was working there as a baker,
Accoridng to Rawlings, he once heard his mother yelling at someone. He then followed her voice round the building till he arrived on the scene to witness his mother standing in the garden, rebuking someone on the balcony at the top of her voice.
To his surprise, he looked up, and it was none other than Otumfuo Osei Tutu Agyeman-Prempeh II, the then Asantehene (of blessed memory) who had asked for salt from a junior staff member contrary to his strict dietary requirements. Click here to read more on what happend.