A driver who has identified himself as Liman Akwara shocked onlookers when he cut short his trip to meet his idol Shatta Wale at Hitz FM, Friday.
Videos have been trending fast on social media that show a die-hard Shatta Wale fanatic who is a Trotro driver who has gone the extra mile to show his love for the dancehall act, click here to watch the full emotional video.
Read Also: Full Video: How A Trotro Driver Left His Passengers Stranded To See Shatta Wale Just To Receive His Blessings
Shatta Wale is currently doing a media tour with his newly signed female artists namely; Monarch Yadark and Kira also known as Peace Amekuse.
After he recently announced the signing of his female artists for the first time in an interview with Sammy Flex on Zylofon Fm, the dancehall artist on Friday, 30 October proceeded to Hitz Fm.
Read Also: 'Bless Me Daddy And Put My Enemies In A Shame' – Die-Hard Fan Of Shatta Wale Cries After Meeting Him For The First Time | Video
Trotro driver, Liman Akwara has proven to be the biggest Shatta Wale's fan ever after he stopped working to see the dance hall artist for the first time.
Passengers from Lapaz to Accra had their journey cut short in of front Joy FM when the driver (Liman Akwara) of the vehicle redirected his vehicle to kokomlemle because he heard Shatta wale (shatta movement) was visiting Hitz FM.
Read Also: Kira: 10 Times Shatta Wale's Newly Signed Female Artist Flaunted Her Curves In Hot Photos
In a bid to finally meet his icon, Limann left his car in the middle of the road and later directed his passengers to get down and ordered his conductor to return their fare to them.
A number of obviously angry passengers insulted him but he turned a deaf ear to their harsh words.
Mr Akwara who has tattooed the dancer singer on his back told Myjoyonline.com that he has been waiting for "this moment all my life".
Read Also: Kira And Yadark: The Two Female Artists Signed On Shatta Movement Records By Shatta Wale | Photos And Video
After drawing the attention members of Shatta Wale's team, the starstruck driver was finally led to see the singer who was in the Hitz FM studio for an interview with Andy Dosty.
Overwhelmed with emotion, the driver broke in tears and prostrated before the musician who was happy to see him as well.
Read Also: Monarch Yadark: 15 Hot Photos Of Shatta Wale's Newly Signed Female Artist
Mr Limann Akwara revealed that he lost his mother this morning but seeing Shatta Wale in person has assuaged his grief.
Mr. Liman Akwara and Shatta Wale having a conversation inside Hitz Fm studio.
Shatta Wale became emotional and cried after Liman Akwara showed him the shock of his life
Shatta Wale joined Liman Akwara when he took off his shirt and prostrated on the floor before him, he kissed Liman Akwara's back where he had the tattoo of him at.
Mr. Liman Akwara face full of excitements after meeting Shatta Wale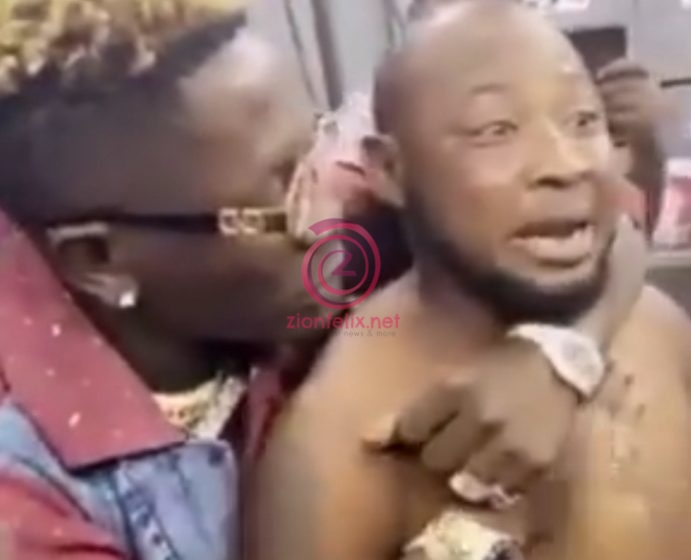 Mr. Liman Akwara being interviewed by Joy News prior to him meeting Shatta Wale
Did you know that Mr. Liman Akwara has being in the news somewhere in January 2018 when he revealed that he will give Shatta Wale a free Trotro ride when he meets him?
Apparently, that was the first time he was spotted showing off his tattoo of his idol, Shatta Wale at his back.
Read Also: Two Occasions Nana Addo Declared Himself As A 'Liar' As A Result Of Tongue Slipping, Video Goes Viral
Below are some pictures of Mr. Liman Akwara when he first trended across all social media platforms as one of Shatta Wale's die-hard fans:
Watch the emotional moment Mr. Liman Akwara made Shatta Wale cry after they met for the first time below: