10 'ordinary' Ghanaians who rose to fame through social media in 2020 with what they can do best that got the internet talking.
Although the year 2020 has been one of the most eventful years, many talents have been unearthed especially during the Covid-19 pandemic.
Read Also: Mario Balotelli And Brother Enoch Speak Twi With Their Biological Parents Live On Tv | Video
Despite the dangers the invasion of coronavirus impacted on countries, some big issues, people that popped up made waves during the year and also dominated in the news.
This happens in every year because Ghanaians have had the likes of Two Toozing, Shatta Bandle, Supa or Ghana TuPac and few others whose fame were short-lived.
Read Also: NDC Makes Fatal Errors In Their Petition To The Supreme Court That'll Cost Them Dearly – Photo Details Drop
This tough year, 2020, there are new entries in this category of people and some need to be praised because they made our Covid-19 hard times in the midst of lockdown very entertaining.
Thedistin.com has compiled the list of 15 social media sensations of 2020 in no particular order:
Twene Jonas
Twene Jonas gained prominence from Facebook and eventually became the people's favorite. He is known to have been tacking Ghana leaders over failure to develop the nation and spending the states money on unnecessary things.
When Twene Jonas goes live on Facebook, the views he gets in less than 30minutes is someone's whole year's view on YouTube, lol.
Twene Jonas started trending some years back but many have got to know him in 2020 and hence he deserves to be in this list.
2. AY Poyoo;
Ghanaian musician and comedian born, Emmanuel Yeboah, otherwise known as also gained fame with his unique way of rapping.
AY Poyoo's, the self acclaimed 'Face Of Gh Rap' when viral internationally from nowhere after he released his single 'Goat'. The song was even shared on top American rappers' social media pages.
AY Poyoo was featured on BBC and he shared his life story and this was still through his 'Goat' hit song.
From the way he is unique, he can still persist with his fame and land some deals with other companies although many Ghanaians thought his fame would be short-lived with some indicating that he would have been gone.
3. Kwame Owusu Fordjour (Dr UN);
One name when heard brings the names of Sarkodie, DBlack, and others in mind is Kwame Owusu Fordjour aka Dr UN.
Dr, UN became popular when he posed himself as a rep for United Nations and organized a fake award that featured some of the most prominent celebrities and political figures in Ghana including Sarkodie, D-Black, Berla Mundi, Captain Smart, et al.
Social media started a trend in his name making him gain fast popularity and was featured on radio and TV.
4. Hajia Bintu;
On the fourth spot is Ghanaian TikToker and Instagram model born Naomi Asiamah but widely known as Hajia Bintu.
She has no international feature unlike the likes of AY Poyoo, and few others but she has managed to be one of the most talked about Ghanaian making her a celebrity currently.
Due to Hajia Bintu's curvaceous body, she has been loved by many as she is arguably one of the most followed Ghanaian on TikTok App.
Hajia Bintu has won for herself some ambassadorial deals and has won an award for the Vibrant Instagram Page at the social media Arts and Entertainment Awards.
Hajia Bintu's latest glory is that Shatta Wale has made a song for her titled 'Hajia Bintu' which has been well received by Ghanaians.
She is a student of Koforidua Technical University where she's studying a course in Hospitality.
5. Sammy of KNUST fame;
On March 10, 2020, a male KNUST student identified as Samuel Aboagye (Sammy) had his broken heart video fast circulating on all platforms.
The video surfaced following a breakup with his girlfriend, Nana Ama, also a student of the same institution.
His story kept making waves on social media until he became known by everyone and was featured on some major radio and online media stations.
He also auditioned for TV3's popular show Date Rush in search of love again after he got dumped by his longtime girlfriend, Nana Ama.
6. Jackline Mensah;
Jackline Mensah, Ghanaian TikTok star had her name sinking in the heads of people following her funny videos she posts online.
However, Jackline has been around since 2019 but nobody really paid great attention to her until 2020.
Her videos started going viral during the lockdown period and she got featured in several videos and interviews. She has now been established as a celebrity.
7. Hon. Aponkye
Nana Adabor Ibrahim Isaah Ampim, aka Hon. Aponkye became an internet sensation after his gargantuan promises he made to the people of his area during an interview with Nana Aba Anamoah on GHOne hit social media.
He is making the list since he was known publicly in the later days of December 2019 and still managed to trend in 2020.
Hon. Aponkye was been beaten soundly in the District Assembly Election for Adukrom Nima electoral area.
He has also been called for interviews both on radio and on Tv after gaining fame, he deserves to be in the list.
8. Elizabeth Yamoah;
Madam Elizabeth Yamoah, a 57-year-old woman caught the attention of Ghanaians after she sat for the BECE exams months ago.
It was later revealed that she is a mother-of-four and wants to defy all odds to refute claims that the aged have no mind to study and make academic excellence as she even obtained aggregate 12 in her BECE exams and vows to become a nurse in the future.
Madam Elizabeth Yamoah was also featured on BBC as she shared her life story on the popular channel after they sighted on such incredible thing she did regardless of her age.
9. Gakpetor: PRESEC Legon's super-sub at the 2020 NSMQ
Gakpetor Daniel Kekeli, a student of Presbyterian Boys' Senior High School (PRESEC) Legon, gained internet fame for his outstanding performance in the 2020 National Science and Maths Quiz competition.
PRESEC beat Adisadel College and Opoku Ware School on October 8, 2020, to emerge as champions of the national quiz and this young chap – who usually came in as a substitute – played a key role in the attainment of that feat.
His name trended again in November when someone leaked his final results for the 2020 West Africa Senior School Certificate Examination (WASSCE) online.
Social media was inundated with his results slip which showed he had obtained A1 – the best mark – in all eight subjects.
10. Kelvin Odartey: Teenager who built a car
In September this year, Kelvin Odartey, a teenager who had just completed his Basic Education Certificate Examination (BECE), shot to fame after a story of a car he had built went viral.
He became an internet sensation when a video of the car, which he built with scraps, began trending on the internet.
In the video, teachers, his colleague students and passersby looked impressed as they watched him operate his car and pick a few of his friends in school uniform.
11. Tracy Osei (Kennedy Osei's wife);
Mrs Tracy Osei (Tracy Ameyaw) was not a figure anyone knew to be in the spotlight.
However, her marriage to Mr Kennedy Osei, the son of business mogul Dr Osei Kwame Despite in a lavish wedding that went viral making popular.
She became famous just because she got married to a rich man's son.
12. Serwaa Dufie
Ama Serwaa Dufie the young and wilding female policer officer in Ghana who trended on social media because of her endwoned body.
Most netizens stunned after pictures of Serwaa Dufie in her police uniform and her curvy body on display were released on social media.
13. Kumerica
'Kumerica' – the name and the movement – took social media by storm.
It emerged and trended for weeks on Twitter out of a fantastical desire by some natives of the Ashanti Region to be known as Kumericans.
As part of the sensation online, it was said that the entire Ashanti Region popularly known as Oseikrom should now be referred to as the United States of Kumerica, USK for short.
The trend intensified when photos of Kumerica passport, currency and flag began trending online.
14. Pallbearers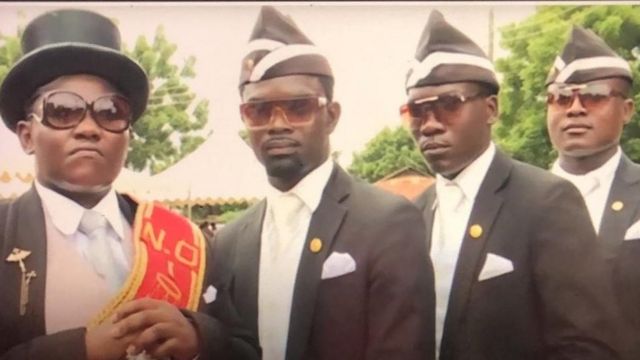 One major viral sensation which got the internet and Ghanaians talking at the early months of 2020 is Ghana's dancing pallbearers.
The popular 'Dada Awu' dancers turned viral sensation across the world because of coronavirus.
The dancing pallbearers from Ghana who dance by carrying coffin on their shoulder turn major source of entertainment creating coronavirus sensitisation message to the world.
Thousands of social media users involved in the 'Dada Awu' challenge as many created plenty internet memes with dancing pallbearers, and they always followed one single message i.e "stay home or we'll dance with you."
They trended in Brazil as in some part of the county, the pallbearers were on billboard as they create attention on Covid-19 with the caption 'stay home or dance with us.'
De dancing pallbearers go viral first on TikTok around February 2020, but it started getting serious when online users started creating their own videos where if someone do yawa, then they insert the pallbearers dance videos at the end.
15. Noble Epton Asamoah
The Opoku Ware Senior High School boy who made wonders in the 2020 National Science and Maths Quiz, Noble Epton Asamoah also made it in the list of internet sensations in 2020.
Noble Epton Asamoah performed exceptionally well during NSMQ 2020 for his school and was awarded for his performance although his school did not win the trophy.