A close source to Thedistin.com has revealed that the biological children of the King of Asanteman, Otumfuo Nana Osei Tutu II are seven (7) as their pictures surface online.
Despite people knowing the beautiful Julia Adwapaa Amaning, the wife of the overlord of Ashanti Kingdom, Otumfour Osei Tutu II, little to nothing is known about the children of Otumfour Osei II, not even pictures until now.
Read Also: Meet Abenah Serwaah Mankosa: A Class One Teacher Who Feeds Her Students Delicious Meals Everyday From Her Own Pocket | Photos
The Asantehene is the absolute monarch of the Asante people and the historical Kingdom of Asante. Otumfuo Osei Tutu was enstooled as Asantehene in April 26, 1999.
The Asante king is one of the few powerful and most respected Kings in Africa and even the world.
Read Also: Billionaire Blogger, Linda Ikeji Gifts Her Dad A G-Wagon For His Birthday | Photos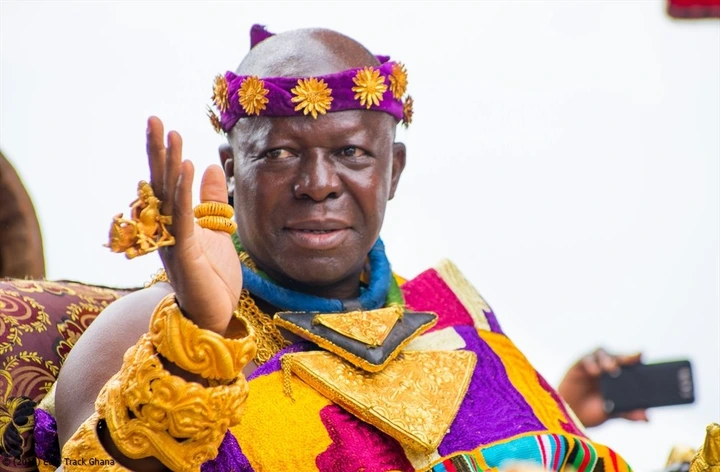 Born in the year 1950, Otumfuo Osei Tutu is a little over 70 years and hails from the Oyoko dynasty.
Read Also: Nana Ama Mcbrown And Jackie Appiah Dazzle In New Hot Photo As They Crown Themselves The 'Kumerica Divas'
He is married to lady Julia Osei Tutu who was born as Julia Adwapaa Amaning.
The king of the Asante Kingdom, Otumfuo Osei Tutu is believe to have 7 children. As a King of his caliber not much is known about his family most especially his nuclear family although photos of his children have hit online.
Read Also: Jackie Appiah Acquires A Brand New 2021 Range Rover, Poses Beautifully With It In New Photos
Otumfuo has an elder daughter, Dr. Caryn Agyemang Prempeh who is a medical practitioner and a journalist. Nana Mensah Bonsu follows Dr. Caryn Agyemang Prempeh but little is known of him.
Aside the two elderly children comes three fair kids; two boys and one girl. They are the children Otumfuo had before meeting Lady Julia.
Read Also: Mahama And Members Of The NDC Hold Party To Celebrate Alban Bagbin's Victory (Photos)
Two of his children he had with his current wife, lady Julia whose identities have been revealed are; Nana Kwame Kyeretwie and Nana Afia Kobi who were named after the mother of Otumfuo Osei Tutu II.
Check out photos of the children below.
Dr Caryn Agyeman Prempeh
Princess Ohemaa Afia Kobi Prempeh, known professionally as Dr Caryn Agyeman Prempeh Prempeh is the daughter of HIM Asantehene Otumfuo Osei Tutu ii of Ashanti empire, Ghana.
2. Nana Mensah Bonsu
3. Nana Kwaku Duah
4. Nana Opoku Ware
5. Nana Akyaa Mansa
6. Nana Afia Kobi
7. Nana Kwame Kyeretwie
Checkout below also:
Otumfuo and Sons Nana Kwaku Duah and Nana Opoku Ware:
Otumfuo's Family Nana Opoku Ware (behind), Nana Akyaa Mansa, Nana Mensah Bonsu and Nana Afia Kobi
Nana Mensah Bonsu and Nana Kwaku Duah rocking their authentic Kente cloth: