Ex-Google millionaire now a YouTuber, TechLead launched "Million Token" cryptocurrency, he has explained everything one needs to know however, majority think its a scam.
In this article, we will look at the inception of "Million Token" and how people are reacting to it with many accusing it to be a scam.
What is Million Token cryptocurrency?
Million is a decentralized digital currency pegged to a minimum value of 1.00 $USDC with a fixed-supply of 1,000,000 tokens, for a total market cap of 1,000,000+ $USDC.
​As Million gains popularity and usage, the value may increase above the initial peg-value of 1.00 $USDC. For example, if 1000 people each want 1000 Millions, the fair market value of Million is 1.00 $USDC each. If 2000 people each want 1000 Millions, the fair market value of Million rises to 2.00 $USDC, thereby increasing the market cap of Million to 2 million $USDC. Over time, the price of Million may reach 10 million, 100 million, or even higher.
Million token (MM) was launched on Thursday 1st July 2021 via an initial DEX offering on leading decentralized exchange Uniswap on Thursday.
Who created/founded Million Token
Million Token was founded by an ex-Google / ex-Facebook known in real life as Patrick Shyu but popularly called Tech Lead with over 1,000,000 subscribers on YouTube (as a millionaire).
Guide on how to buy Million
​– Create a digital currency wallet, for example with the secure Metamask wallet.
​- Send Ethereum (or USDC) to your Metamask wallet. You can buy Ethereum (or USDC) on Metamask directly, or through other platforms like Coinbase, BlockFi, etc., and then send them to your Metamask wallet.
​- Connect to Uniswap and swap for Million. Trade for Million on Uniswap.
TechLead's Million Token Social Media Platforms.
TechLead has used his social media channels to promote the token, suggesting that investors could earn lucrative returns by buying into the project.
Instagram: https://instagram.com/techleadhd/
Twitter: https://twitter.com/techleadhd/
Linkedin: https://www.linkedin.com/in/techleadhd/
YouTube: https://www.youtube.com/c/TechLead
Official Website
The official website where you can buy and read in details everything about Million Token is https://milliontoken.org/
Million Token Properties
1,000,000 Fixed Limited Supply
Million has a fixed supply of 1,000,000 tokens total. No more can ever be created (guaranteed by code). Million is deflationary by nature. Million begins with a peg of 1.00 $USDC per token, and its value increases over time with scarcity. Source Code
Moonshot Upside
For holders of Million, there is unlimited upside. Unlike traditional stablecoins (pegged to 1 Token = 1 $USDC), Million has a fixed supply and therefore has an unbound maximum. As Million gains popularity and circulation, it could potentially reach higher values being worth as much as 10 million or 100 million theoretically. The moon is the limit.
1+ Million Valuation
With one million tokens in circulation, Million is worth a minimum of 1,000,000 $USDC total market capitalization but can be worth much more.
Store of Value + Transactional Currency
As a decentralized currency secured by millions of computers worldwide on the Ethereum blockchain, Million can be used as both a store of value and a means of transaction. Million's unique limited supply makes it especially ideal as a store of value with unlimited upside. Million can be transferred in fractional amounts (up to 18 decimals), allowing it to be used for microtransactions as well.
Millionaire Approved
Million Token was founded by the ex-google / ex-facebook techlead, with over 1 Million subscribers. As Million gains popularity amongst more and more people, it gains usage and acceptance as a form of digital currency spreading exponentially through word of mouth. With popularity, the value of Million grows.
Ethereum Blockchain
Million exists as an ERC-20 smart contract on the Ethereum blockchain, decentralized and validated by millions of computers worldwide.
Why People think Million Token is a scam.
The account that minted the token was found to have dumped large batches of the token on the open market, and it's now trading over 64% off record highs.
Since the launch, TechLead has aggressively promoted the token on his social media channels. In a YouTube video uploaded on the day the token was made available for trading, TechLead told his followers:
"We're going to the moon. We're going to the moon, that's right. I mean, we're going to be rich, you guys. I don't see how we can not be rich."
The Million token, which started trading at $1, saw massive growth over the next three days, rising over 3,500% from its launch price, according to data from Uniswap. However, the euphoria was short-lived, and by the morning of Jul. 4, the price had started to collapse. Million is currently down 64% from all-time highs.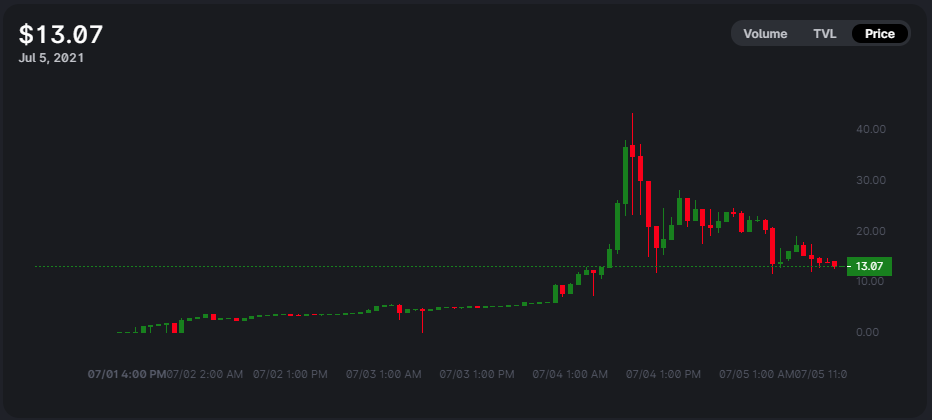 Million Token has been accused of conducting a pump-and-dump scam with his newly launched cryptocurrency "Million."
Following the crash, accusations of a pump-and-dump scam started emerging on Twitter. Those following the situation were quick to note that large amounts of liquidity had been taken off Uniswap by the same address that minted the Million tokens.
At the same time, other users found that a previously inactive account had bought over $100,000 worth of Million tokens before the price increase.
Despite the price collapse and accusations that the project is a scam, TechLead is doubling down on the Million token. In a tweet posted Sunday night, he stated a $100 million price target for the token and urged his followers that they should "START PACKING YOUR SPACESUIT, STOP WHINING AND START HELPING."
The immediate crash that followed Million's price high has led to accusations the project is a pump-and-dump on Twitter, with user DCF GOD highlighting the large sums of liquidity that had been pulled from Uniswap by the same address that minted MM tokens.
"By removing liquidity and not selling, he's effectively selling without 'selling.' This way he doesn't have to tell the community that he sold while they all bought, he just has to hold his initial promise of keeping 1m of usdc liquidity," they argued.
Shyu responded to the thread, labeling it "absolute FUD," arguing, "This is literally how liquidity works in Uniswap V3 […] liquidity ranges are created, you literally cannot do it any other way."
Popular commentator ChainlinkGod.eth 2.0 commented that TechLead had completely missed DCF's point, stating, "You've created a 'get rich quick' scheme so you can dump on your followers, you've added liquidity when the price is low and removed it when the price was high and profited the difference in $USDC."
Shyu published a YouTube video on Tuesday addressing the accusations, denying that he "rug-pulled" investors by removing liquidity. However, the YouTuber also emphasized that MM "should not be considered an investment," describing the project as a "social experiment":
"Million tokens should not be considered an investment by any means. This is a social experiment and really pure speculation. It's kind of a game for us to see what happens with this, kind of like Dogecoin."
In promoting the token to his followers with references to guaranteed price gains, TechLead may have also violated the Securities and Exchange Commission's regulations. The SEC is yet to comment on the activity. 
Aside the above accusations, since Million Token was priced at $1.00 on launch, comments many are raising is that he wants to be make himself a millionaire without caring about those who will join him.
According to people, TechLead with over 1.1M subscribers on YouTube will make quick millions by persuading people to join him with the $1.00 starting price.