Following news of Nana Addo's visit to the United Kingdom, Ghanaians in London have staged a #FixTheCountry protest as they clashed with NPP supporters who embarked on walk to appreciate the president.
On Friday, July 30, at the 13 Belgrave Square London, hundreds of some Ghanaians in the United Kingdom, by name Patriotic Ghanaian Citizens in the UK, took to the streets of London to show support for President Nana Akufo-Addo and his administration.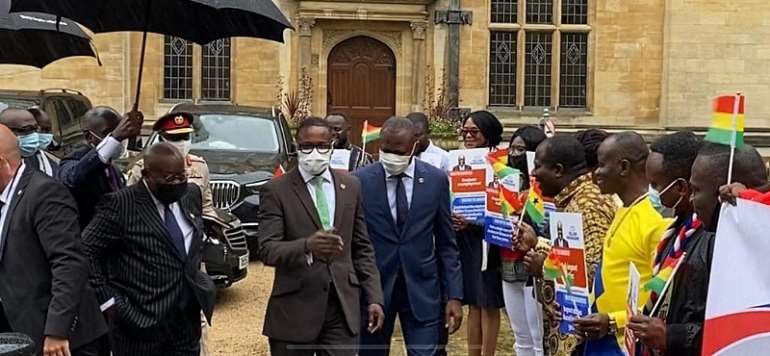 Among them were Ghanaian students in U.K, and workers and other big wigs in the New Patriotic Party (NPP).
They carried placards and banners, some of which read "Let's Fix it Together", "Let us work on our own Attitude", "Thank You For Free SHS", "NABCO is a Game Changer", among others.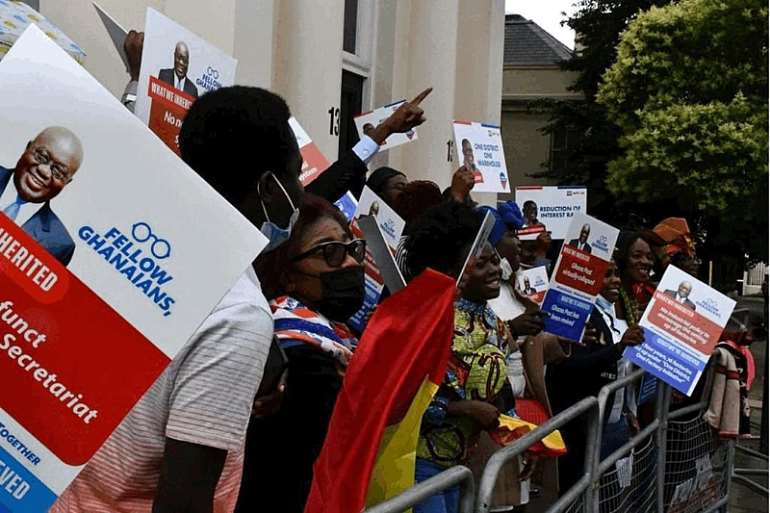 They also praised the president for the successes chalked with regard to his industrialization policy, the "Ghana CARES Obaatampa" programme, among others during the COVID-19 pandemic, and at a time that the world's economy is reeling under pressure from the pandemic.
The group presented a petition to the Ghana High Commission in the UK as the group leader, Amanda Baffour-Awuah disclosed Ghanaians in the diaspora genuinely appreciate the progress chalked under president Akufo-Addo's government and urged him to do more to further improve the fortunes of the country – click here to watch the videos and pictures from the scene.
The President is presently in the UK attending the Global Education Summit.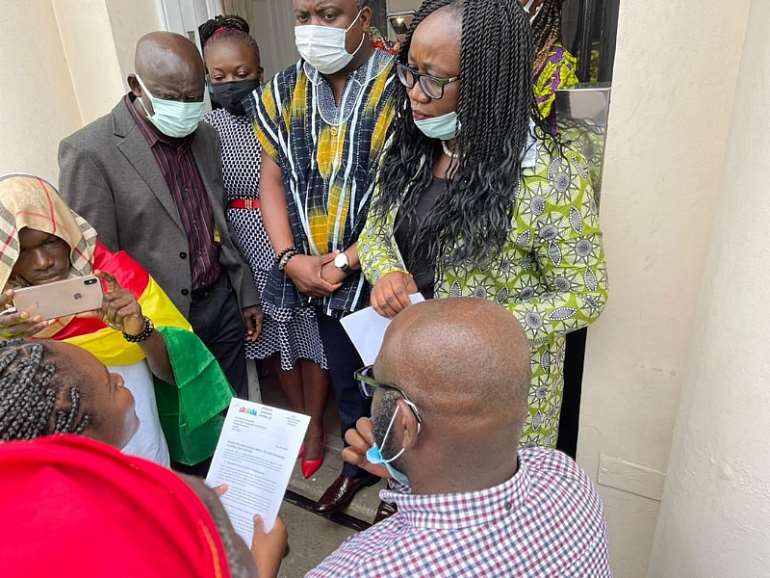 At the same scene were some #FixTheCountry campaigners with majority believed to be NDC fanatics who also stormed there in their numbers to remind the president that his works are not enough.
A Facebook commentator, Marie A. Boadu who was at the location took footages of their clash against supporters of Nana Addo.
In the video monitored by Thedistin.com, although there were no unrests caused, the two parties (NPP supporters and the 'fix the country' group) were both heard revealing what they think about the current state of Ghana and it's leadership.
Marie A. Boadu disclosed that she knew where the president Nana Addo is residing and that they will face him at his hotel in Oxford.
Watch the video below: